Synthetic lubricating greases are widely utilised due to their inherent ability to cling to the friction point and ensure an effective hydrodynamic film under centrifugal conditions and potential detachment from the friction zones. The correct balance of the components of a lubricating grease ensures the right balance between adhesiveness and the coefficient of low static and dynamic friction. Lubricating greases are essentially composed of four elements:
Base oil

– determines the basic film-forming properties of contact surfaces


Thickeners

– metallic, organic or inorganic, which determines the adhesive, cohesive and filamentous power by helping to regulate oil release and recovery under dynamic loads


Additives

– contribute to improved anti-wear, anti-oxidant, anti-corrosive and visco-dynamic properties


Solid lubricants

– help in contexts of emergency application, where other elements are unable to withstand critical thermal or dynamic conditions, creating a protective barrier whilst improving the

coefficient of friction

and reduce mechanical wear (for example, PTFE, MoS2

, Graphite)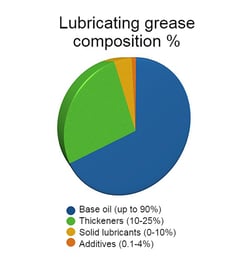 The choice and correct combination of its basic components enables the lubricating grease to suit the application context in which it operates, namely the tribosystem – as the set of conditions affecting the immediate surroundings of a friction process.
The element that affects the performance of a grease more than any other is the base oil, which can be up to 90% by weight in the softest grades of grease (NLGI 000).
It can be distinguished by:
Mineral

– obtained through a process of refining and distilling oil


Synthetic

– directly obtained through a chemical polymerisation process from basic blocks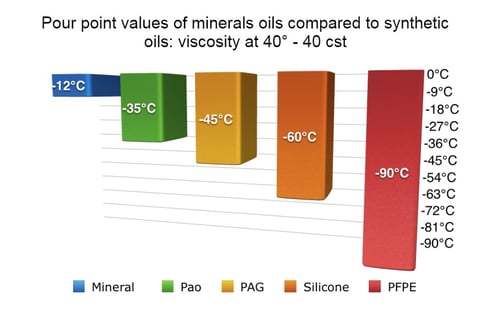 In terms of performance, in a comparison between mineral and synthetic oils, the latter are able to withstand much harsher conditions:
A modern design of mechanical components in the automotive, appliance, military and aerospace sectors need synthetic oils, which are divided into five main macro-families within which specific differences can be isolated:
Polyalphaolefin Oils (PAO)

Polyalkylene Glycol Oils (PAG)

Ester, Diesters and Polyester Oils (EST)

Silicon Oils

(SIL)

Fluorinated Oils (PFPE)
Synthetic lubricating greases thus inherit the strengths of the oils from which they are formulated and are the obvious choice in conditions of:
An absence of hermetic containment of the lubrication chamber
Continuous thermal operating conditions below -30° C and above 120° C
Contact with "oil-sensitive" plastics or rubbers (EPDM, ABS, PC)
The presence of high concentrations of oxygen in the lubrication zone
Contamination of the lubrication zone with aggressive chemicals
Application requirements of minimum viscous friction variation at temperature