The silicone oils most commonly used in industrial lubrication belong to the dimethyl silicone family and are the best value for money, being available in a very broad variety of viscosities with remarkable properties that make them the preferred choice where harsh operating conditions are foreseen.
The main characteristics of silicone oils can be summarised as follows:
Wide operating temperature range

from -60° up to 200° C of continuous thermal exposure
Need for high thermo-viscous stability

> reduced viscosity variation upon temperature change
Mixed mechanical couplings

> rubber-metal and metal-plastic
Good flame resistance

and self-extinguishing
High thermo-oxidation stability

due to strong Si-O-Si bonding
Low toxicity
Reduced content of Volatile Organic Compounds

(VOCs) for higher viscosity grades
Excellent compatibility with amorphous plastics and rubbers

>

NBR, EPDM, FKM
Unrivalled resistance to wash-off
Hydrolysis stability
High dielectric strength
The dynamic viscosity value of a silicone oil is not always constant but can vary in relation to temperature as well as the dynamic stress to which it is subjected. This design parameter should be taken into account if the oil is responsible for the proper functioning of shock absorbers, soft-closing kinematics, dampers or viscous coupling units.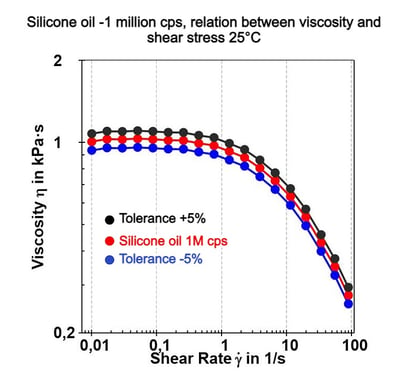 Silicone oils are either used directly for lubrication or as the formulation basis for silicone greases, which differ in their adhesive and cohesive capacity at friction points.
Silicone greases are preferred to silicone oils due to their superior ability to withstand centrifugation and mechanical loading.