The design of a rolling bearing is the first requirement to be taken into account when choosing a lubricating oil or grease. In particular, the absence of protective shields – such as in the case of shaft bearings in axle reduction units – presupposes that the lubricant applied to the gear chamber also provides wear protection for the bearing itself.
Thus, rolling bearings have the dual need to be lubricated and protected. It follows that the choice of the right lubricant must balance two opposing risks:
An increase in

viscous friction

(with consequent rise in heat) to promote adhesion (or permanence) of the protective film
Or, on the contrary, the centrifugal effect due to

insufficient adhesiveness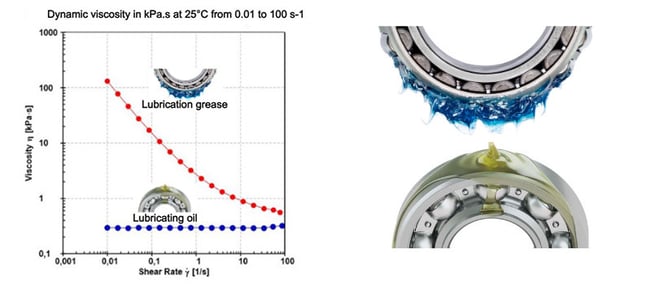 The use of a grease, as opposed to an oil, favours adhesiveness yet also raises the problem of increased friction during bearing rotation (especially in the transient start-up phase of rotation), which must therefore be regularised by adjusting the viscosity of the base oil.
The ideal level of dynamic viscosity in a bearing lubricant is calculated from the velocity factor – the numerical value obtained by multiplying the bearing's maximum rotational speed (rpm, as indicated by the bearing manufacturer) by its average diameter in dm. The higher the declared rotational velocity of the bearing, the lower the viscosity of the lubricant must be.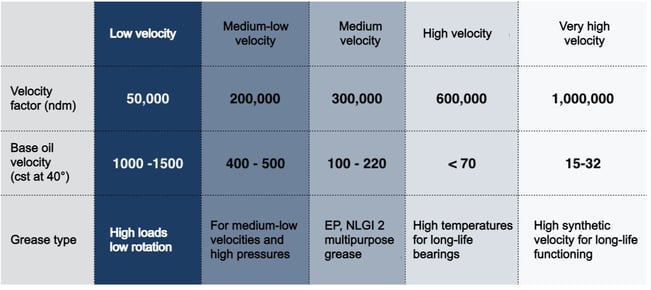 It goes without saying that standardised lubricants will never completely satisfy the velocity factor of a bearing, which can be achieved by designing and developing a customised solution.