Pneumatic cylinders are the most common actuators in compressed air systems. They are the primary means of pushing slides, lifting weights, clamping workpieces, powering equipment, removing workpieces and actuating levers.
The performance and service life of a pneumatic cylinder are conditioned by the integrity of the gaskets separating the pressure chambers. Their integrity is ensured by proper lubrication and assembly during fitting.
They are distinguished by:
Static gaskets – Concern sealing between elements of a cylinder between which there is no relative motion, such as between the barrel and cylinder heads. Static seals are effected by placing a deformable elastic element between the two pieces, mostly a toroidal seal of an O-ring variety.


Dynamic sealing rings – Intervene when a process involving the movement of organs is taking place. Typical dynamic seals are found on the pistons and cylinder rods. The gasket operation is based on the fact that the seal is forced against the surface on which the sealing takes place so that there is interference.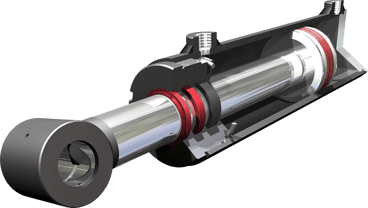 The sealing ring or gasket makes the most important contribution to the life and durability of the pneumatic cylinder, where the role of the lubricating grease can be decisive. What are the benefits of proper lubrication?
Reducing the coefficient of friction between the gasket and cylinder liner
Limiting lip seal wear

Resisting the leaching action of moisture in the circuit

Contributing to the maintenance of the gasket

Preventing the lubricant from changing the mechanical properties of the seal (swelling and streaking)

Reducing the demand for "air" and thus energy to move the cylinder
The lubrication of gaskets introduces an important yet often overlooked component concerning the potential chemical attack and consequent change in the structural properties of the compound, which can be translated into changes in size, hardness and sealing power.