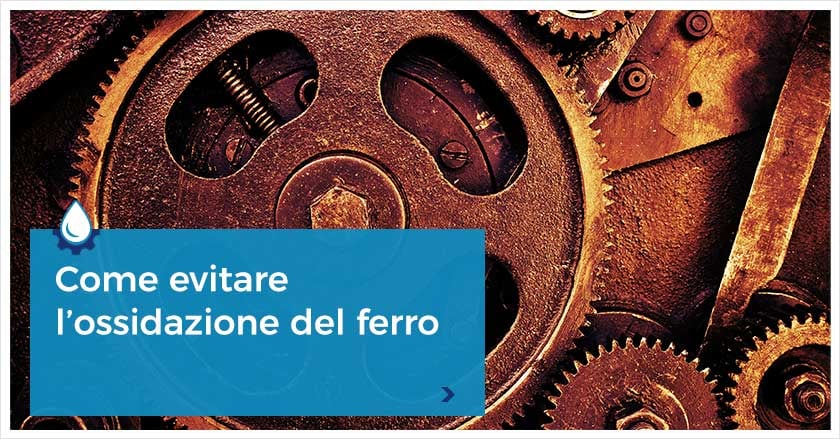 How to avoid iron oxidation
What we commonly call iron oxidation is actually an electro-chemical phenomenon. A very particular phenomenon yet also very simple and elementary in its mechanism, which involves the transfer of the smallest electric charges (the negatively-charged sub-atomic particles called electrons) from the area of an atom of a certain element to the area of an atom of a different element.
In the case of the oxidation of iron with consequent corrosion, the atoms that oxidize and lose electrons before becoming positive are specifically iron, whilst their electrons pass to the oxygen of the air or to that in the water of rain and humidity, which is reduced by taking on a more negative charge.

Corrosion is a very serious problem for those who constantly work with machinery or even iron constructions, as the structural integrity of any metal tool can be significantly compromised by this phenomenon. Unfortunately, it is often not a question of adopting a natural anti-rust solution to remove the first surface layer but rather, specific lubricants are required for the action to be prolonged and effective, preventing its formation again.
Iron oxidation: temporary protection
During the production and processing phases of ferrous semi-finished products or before applying the permanent protective film, it is necessary to have the materials in perfect condition in order to adequately complete the processing without any risk of corrosion.

Avoiding iron oxidation in the production process is essential for several reasons:
Any processing and/or assembly must be carried out without the presence of any traces of oxidation
Any transport or exposure to atmospheric agents such as rain, humidity, fog, saline fog, and so on, could even lead to corrosion
Any traces of oxidation or corrosion in the finished product could lead to considerable economic and image losses
In order not to incur unpleasant situations of this kind, which could significantly undermine your business, here are the necessary requirements for your protection to be of the highest level even during the production phase:


A high degree of protection, measured in hours of salt spray or wet room according to ASTM B-117
Reduced content of volatile fractions, commonly identified as VOCs
Ease of application
Ease of removal from metal surfaces, to make the components ready for subsequent treatments
Non-acting, so that they do not result in other impacts on the material such as, for example, the variation in gloss, colour, roughness and predisposition to chemical attack
Reduced environmental impact
Iron oxidation: the main protective solutions
Speaking of temporary protection, there are solutions against iron oxidation that you must carefully select, depending on your sector and the area in which you need them.
1 - Protective oils
Natural or synthetic, they are enriched with corrosion inhibiting additives.
2 - Corrosion inhibitors
Concentrated saline solutions to be diluted in water, suitable for testing valves, pumps, heat exchangers and pressure equipment.
3 - Emulsifiable
Synthetic or mineral oils, formulated with surfactants for easy suspension in water, allow the component to be protected even after testing for up to 12 months in a closed environment.
4 - Pastes and gels
Greasy compounds with high protective power, suitable for actuators, gears and kinematics operating in external parts.
5 - Dry film coatings
Quick evaporation dispersions of protective waxes in solvent.
6 - VpCI
Polyethylene papers impregnated with corrosion inhibitors, create a protective barrier against saline mists, which is why they are perfect for travel by sea.
To find out all the temporary and permanent solutions against iron oxidation, click below and download our free guide!